3 Easy Strategies for Integrating Social Media on Your Website
Eric Kazda | February 25, 2017 | Posted in Lead Generation
Your website is a powerful business tool. Social media is a powerful business tool. If they work together seamlessly, your digital marketing strategy can achieve better results. Integrating social media into your website can increase your online presence and encourage interaction with your brand. We're breaking down the three most popular tactics used to connect social media and your site in a positive way.
Make it easy to share your content
If you've written an incredible blog post, or are selling unique products, make it easy for visitors of your website to share that content on their social media pages. Integrate buttons that, when clicked, allow the visitor to share to their chosen social media profile. These buttons can be custom-designed by your website developer or even created using a simple WordPress plugin.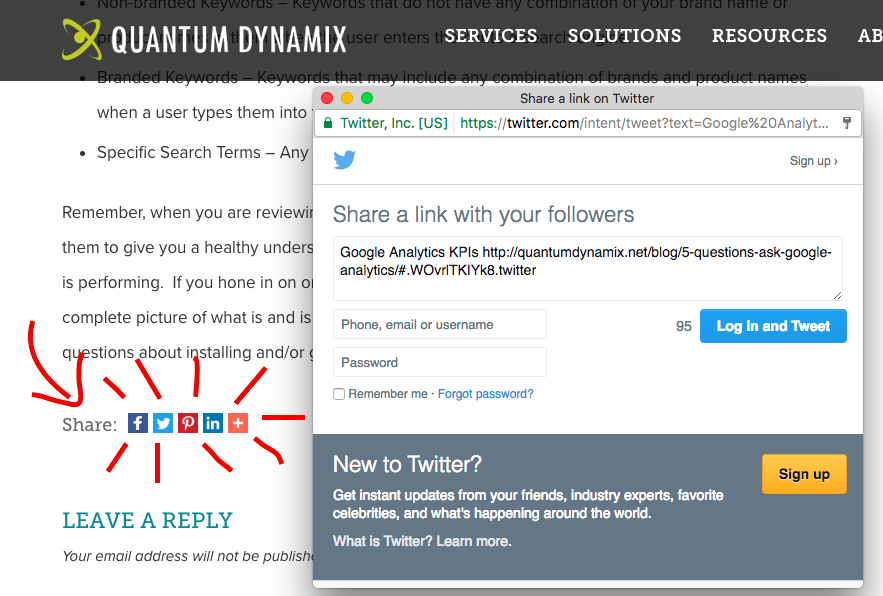 If you're an eCommerce site, put an emphasis on sites like Pinterest that capitalize on image-based content. If you're writing blog content, make it easy to share on Facebook, Twitter, or Linkedin.
Hootsuite recommends having buttons that provide sharable links available at not just the top of your content, but also the side and bottom as well. This is so that no matter where the visitor travels on the page, it will be easy to find and click those share buttons.
Another idea is to make the share button a true call-to-action. Once the visitor makes a purchase or another significant step on your site, make it easy for them to share that specific accomplishment on social media. Have a CTA window pop up to encourage the customer to capitalize on the excitement of the purchase by sharing it with family and friends.
Use social media profiles for logins
If your site allows users to create an account, consider letting them sign in using their social media profiles rather than creating an entirely new account. Research shows that 73% of users prefer to login with a social account rather than have to remember a new username/password combination.
This can also apply to the comment section of your blog. Have the commenter login to their social media to post on your blog, and it will inspire conversation across multiple platforms. It's also a great way to prevent spam comments from random bots.
Narga created this helpful list of some of the top WordPress plugins you can utilize on a site for social logins.
Embed social media feeds onto your site
If you already have active social media profiles, and continually provide relevant, timely updates, then it could be a great idea to integrate those feeds on to your website. News organizations can embed their Twitter feed on the homepage for breaking news updates. A home decor store can embed their Instagram or Pinterest feed to provide inspiration to shoppers.
Another strategy is to embed pictures from social media users that mention your brand in their post. This is a great way to see real customers using and loving the product in addition to traditional reviews.
In the below example, Ulta (a chain beauty store) features photos posted across social media with a specific hashtag. Prospective customers can see what the product looks like on real users, and Ulta benefits from free publicity across social media.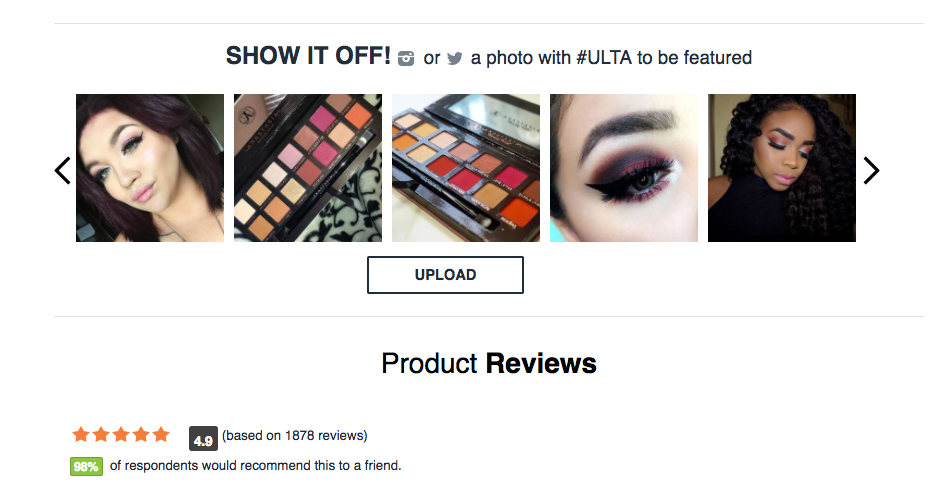 Beware of encouraging visitors to leave your website
Although integrating social media into your website can be a successful way to generate leads, be careful of making this common mistake.
If you have a social media profile, it's important to provide a link to that profile on your website. However, you don't want to encourage leaky website traffic to these social media profiles. Ask yourself, which spot will drive the most lead generation for me? My website or my social media page? If the answer is your website, do everything possible to keep the visitors on your actual site. Once they leave to visit your social media, it's unlikely that they will return.
Combat this problem by making the social media links easy to find for those that are looking, but not as visually commanding as the CTAs on your page. You can place the links in the header or footer of your website, and design them to blend in with the theme of your site. By making the buttons match your brand, they provide a more cohesive design without enticing visitors to click away unnecessarily.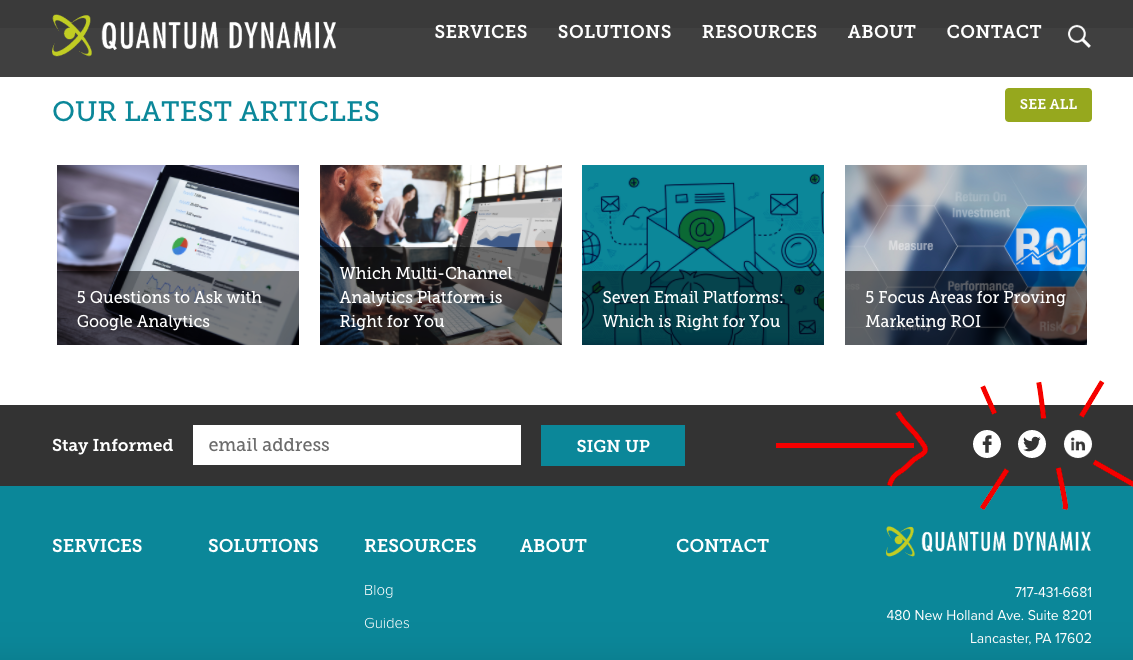 You can see that on our own site, we keep our social media links in the footer and they blend completely in with our overall theme.
Increase your lead generation possibilities beyond social media integration
Integrating social media into your website will allow you to connect with people beyond the confines of your website and generate more leads. But why stop there? Lead generation is a vital part of any digital marketing strategy, and there are so many more tips beyond social media.
The 30 greatest lead generation tips, tricks & ideas
Read our FREE guide for the top 30 tips and techniques marketers can utilize increase leads and revenue.
Download Our Guide