WordPress Developer- QNTM Career Opportunity
Craig Kazda | September 1, 2022 | Posted in Career Opportunity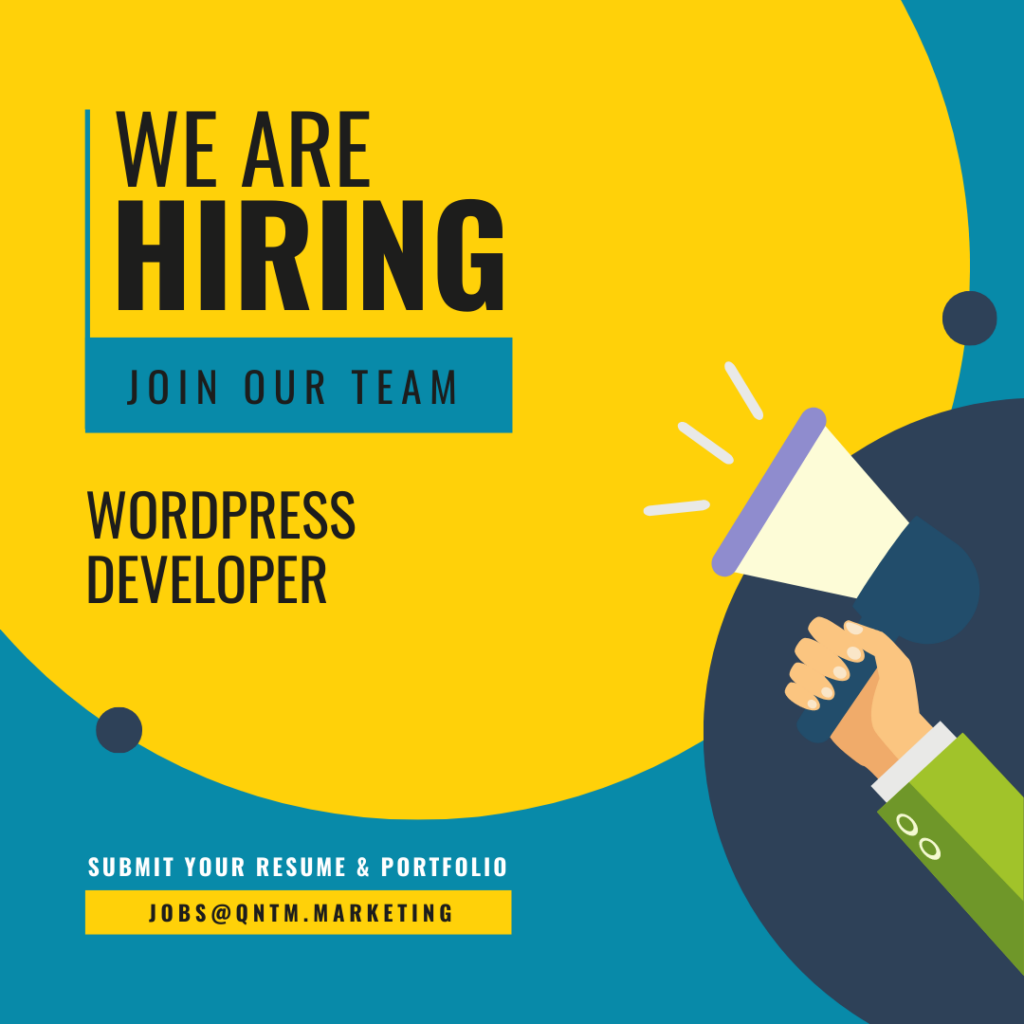 JOB DESCRIPTION
QNTM is accepting applications for a full-time WordPress Developer for a variety of project work. The WordPress developer will take Photoshop layouts and convert them into working HTML/PHP pages and/or site templates. Applicants must also be knowledgeable in regard to UI development, PHP, and JavaScript. Applicant should have a body of work that utilizes JavaScript (JQuery) and CSS3.
Applicants must be responsible, dedicated, reliable, and self-motivated, as well as available between the prime hours of 8:00am and 5:00pm EST and available to participate in video conference calls.
REQUIREMENTS
HTML5 and Schema structured data
CSS3, PostCSS, and Tailwind
NodeJS as it relates to website dev/build
PHP
JavaScript (JQuery)
VueJS (or comparable with ability to learn)
WordPress theme and plugin development
Ability to convert Photoshop website layouts to Standards-compliant WordPress themes
Ability to code custom Gutenberg blocks
Cross-browser capability
Mobile capability
Familiarity with common WordPress plugins, such as ACF, Gravity Forms, Yoast, etc.
Familiarity with Github
Familiarity with ADA WCAG requirements
Familiarity with SEO coding practices
MySQL / MSSQL
SOFT-SKILLS
Problem-solving mindset
Motivated by innovation
Dedication to quality and driven by success
Proofs own work for errors
Ability to work with team members to complete projects
Solid communication skills, solid writing skills, and solid people skills
Ability to track and utilize time efficiently
SALARY
Salary: Up to $55,000.00 per year
QNTM BENEFITS
11 Paid Holidays Annually (including your birthday)
Flexible Paid Leave Policy
Health Insurance
Dental Insurance
Vision Insurance
Retirement plan (Simple IRA)
Flexible Schedule
Paid Maternity/Paternity/Adoption Leave
SCHEDULE
Full-time position
8-hour daily – Monday to Friday
EDUCATION & EXPERIENCE
College or equivalent (Preferred)
2 years of WordPress development experience (Preferred)
Past digital marketing experience (plus)
Past marketing agency experience (plus)
HOW TO APPLY
Please submit your resume, examples of your work (with a detailed explanation of the exact tasks you performed within each example), and desired compensation to jobs@qntm.marketing. All applicants will be contacted both after submission and at the time of selection. QNTM is an equal opportunity employer.
Download a PDF of this job opportunity